Leather

TECH

Pro™
A synthetic leather strapping, made with Bio

MER

™ coating and Hi

BOND

+™ technology that goes beyond premium.
Leather

TECH

Pro™ is our latest superior, high performance, ECO-friendly, synthetic leather strapping product, the result of over 7 years of continual research, development and refinement. Leather

TECH

Pro™ uses our own Bio

MER

™ polymer, developed to provide a superior look and feel, have a high UV stability and, most importantly, be amongst the safest polymer coatings in use, ensuring that none of the raw materials are on the REACH SVHC list. In fact our Bio

MER

™ polymer is so safe that it is considered to be bio-compatible, this means that it is safe enough to manufacture medical grade products that are able to be implanted in humans. To ensure that our Bio

MER

™ coating stays permanently attached to the webbing core, we have also developed our own unique Hi

BOND

+™ technology, giving unrivalled performance.
Synthetic leather strapping only has 2 primary components, the webbing strap core and the polymer coating. However the best synthetic leather strapping is far more than the sum of its parts. In order to be considered as a truly great product, you also need to consider the interaction between these 2 components. It will do you no good having a strong webbing core and superior polymer coating if they are weakly bonded to each other, you will very quickly see the coating separate from the webbing, leaving you with something that looks like MC Hammer's pants.
Our webbing is a tightly woven webbing, utilising an extreme strength, high tenacity polyester yarn, woven to exacting standards on our own, state of the art, narrow fabric weaving looms. This is then coated with our BioMER™ coating, a polymer developed by ourselves in collaboration with leading international suppliers. Bonding the 2 components together is our unique HiBOND+™ technology to give us an industry leading polymer to webbing bond strength. The result of this is our superior LeatherTECH Pro™, a premium quality synthetic leather strap.
We originally started manufacturing synthetic leather strapping in New Zealand many years ago. However, due to high cost to manufacture there, we found it increasingly difficult to provide such a high quality product at competitive prices. As a company that is unwilling to compromise on the quality or ecological impact of our product, we took the decision to relocate the business to Thailand. This has allowed us to retain the high quality raw ingredients, from international suppliers, yet greatly reduce our cost to manufacture. This move has been so successful, we are now able to provide our LeatherTECH Pro™, a product which can compare to any other synthetic leather strapping on the market, at a price considerably less than you may expect.
On the long journey that finally resulted in our HiBOND+™ technology, our first success was the original HiBOND™. However, whilst this surpassed most of the other products available, it never quite matched up to the very best of the rest. Undaunted, we continued to refine and improve the process until we finally had HiBOND+™, that gave us the unrivalled performance we aimed for. Not wanting to see our original attempts go to waste, we have decided to offer a synthetic leather strapping product for the more budget conscious, using the same high tenacity webbing core, but using our EcoMER™ coating and the original HiBOND™ technology. Our EcoMER™ polymer is a more economical polymer, which still keeps an ecological profile. Although it is not bio-compatible, we have still ensured that it contains zero chemicals on the REACH SVHC list. This economical option has become our basic LeatherTECH Eco™ product, something which still gives a superior performance to most of what's currently available, but something we are able to provide at a price that is more than competitive.
Leather

TECH

Pro™ - with an integral woven polyester webbing, our Bio

MER

™ coating and Hi

BOND

+™ technology.
A supreme quality synthetic leather strap, with a highly premium look and feel, that gives the ultimate in performance, all at a price that you will leave you pleasantly surprised.
Browse through the above tabs to see why LeatherTECH Pro™ should always be your first choice.
---
Leather

TECH

Eco™ - for the budget minded, with an integral woven polyester webbing, our Eco

MER

™ coating and Hi

BOND

™ technology.
A high quality synthetic leather strap, with the same highly premium look and feel, that still gives above average performance, but comes with a below average price tag.
Our EcoMER™ polymer is our economical, yet ecological coating. Whilst considered an industrial grade polymer, we have ensured that it still contains zero chemicals on the REACH SVHC list.
---
Strap

TECH

™ - using our superior Bio

MER

™ polymer without any internal webbing.
The same highly premium look and feel in a strap without a webbing core.
For decorative items that don't require the strength, or for when you need the stretch rather than the strength
Our LeatherTECH Pro™ comes with a high gloss finish and 2.5mm thick profile as standard. A matt finish is available with selected colours. We can also supply, to order, grooved and beaded profiles or profiles of greater thickness. Typically our grooved profile has a square groove but could produce a round or V groove if required. Get in touch with us to tell us your requirements, we have our own on-site workshop where we can very quickly create extrusion dies for any profile we don't currently have.
Width
Breaking Strength1
Availability2
10mm
( ⅜" )
450Kg
To order
13mm
( ½" )
600Kg
All colours stocked
16mm
( ⅝" )
750Kg
All colours stocked
19mm
( ¾" )
900Kg
All colours stocked
22mm
( ⅞" )
1050Kg
To order
25mm
( 1" )
1200Kg
All colours stocked
32mm
( 1¼" )
1500Kg
To order
38mm
( 1½" )
1800Kg
To order
44mm
( 1¾" )
2100Kg
To order
50mm
( 2" )
2400Kg
Standard colours stocked, others to order
63mm
( 2½" )
3000Kg
To order
1 The breaking strength is the typical force at which the internal webbing breaks - for safety, ensure your requirements are well within these limits.
2 Items listed as stocked are those which we normally hold in stock and is not intended to show a 'live' status. There may be instances, e.g. immediately after shipping a large order, when some of these items are temporarily out of stock.
| Colour | Standard | Matt |
| --- | --- | --- |
| Black - BLK | | |
| White - WHT | | |
| Dark Green - DGN | | |
| Soft Pink - SPK | | |
| Navy - NVY | | |
| Silver - SLV | | |
| Brown - BRN | | |
| Bright Yellow - BYW | | |
| Tan - TAN | | |
| Cyan Blue - CBL | | |
| Emerald Green - EGN | | |
| Cerise - CRS | | |
| Maroon - MRN | | |
| Gold - GLD | | |
| Sky Blue - SBL | | |
| Red - RED | | |
| Purple - PPL | | |
| Orange - ORG | | |
---
In order to keep the price of our LeatherTECH Eco™ low, we do not carry any stock, making it to order with a minimum of 1000m per item and limiting production to only the most common options. It is available in high gloss, in the standard colours, with a flat 2.5mm profile in the following widths: 13mm, 16mm, 19mm, 25mm and 50mm.
---
StrapTECH™ comes in all the same options as LeatherTECH Pro™ however, at this time all options will be made to order. Without the internal webbing holding everything in place, StrapTECH™ will shrink in width after extrusion, so please note that the widths won't exactly match the LeatherTECH Pro™ widths. In the future, once we have a better understanding of the typical demands for StrapTECH™ we can then make an informed decision on which options we will typically keep in stock.
When we first started the business we were initially buying in our webbing, but we found that the quality of the product varied considerably from batch to batch. Looking at the better webbing manufacturers, who could give us a consistent, high quality webbing, we found that the cost of this would not allow us to make our premium synthetic leather strapping at a competitive price. We therefore took the decision to buy our own, state of the art, narrow fabric weaving looms, which allows us to maintain a very high quality webbing and retain a very attractive price for our customers.
We use a high density, tight weave that prevents either the warp or weft threads from being displaced when under load, particularly where the webbing is cut or punched. If the threads making up the weave are not held tightly in place and have room for movement, the overall strength of the webbing is compromised.
Yarn is delivered directly from our creel to our loom through a tension equaliser so that the finished weave is straight and each warp is of equal tension. This is very important as it ensures that any load applied to the weave is distributed equally among all warp yarn threads. This ensures that no individual filament gets overloaded, which could cause that filament to break prematurely, compromising the ultimate strength of the webbing.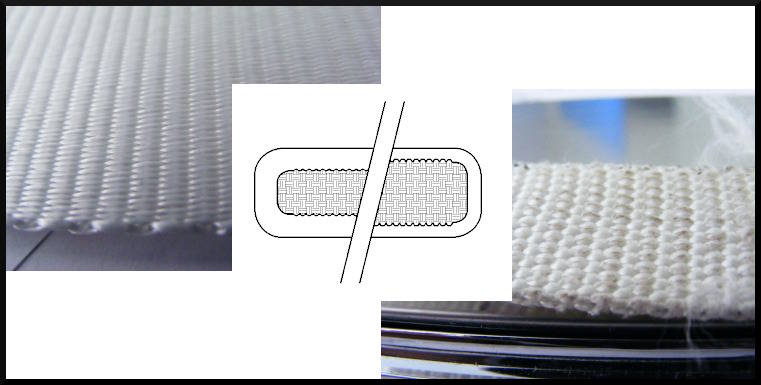 Since the development of our HiBOND+™ technology, we now get such a strong bond that we no longer need our webbing to have a large surface area to bond to. This has allowed us to produce a tighter, flatter, thinner weave, reducing the webbing thickness without reducing number of warp filaments, therefore maintaining the same strength. Having a thinner weave allows us to have a thicker covering of our BioMER™ coating, for the same overall thickness of the finished product, ensuring maximum protection for the underlying webbing core. Having a flatter weave keeps the high points of the weave at a minimum, ensuring our BioMER™ coating is still generous at these points.
With standard manufacturing processes it is not possible to have a very strong webbing core, with a thick protective outer coating and have both of these strongly bonded to each other. One of these components will need to be compromised.
Typically, keeping the thick outer coating on a flatter, thinner, strong webbing core, there will not be enough available webbing surface for the coating to get a good bond to. We have seen examples from other manufacturers where a brand new sample literally came apart in our hands the first time we handled it, the bond was so weak.
In order to achieve a better bond, it will be necessary to maximise the surface area of the webbing, which is achieved by bulking out the webbing. This is typically achieved by relaxing the weave, which creates less resistance to the coating, allowing it to travel further into the weave, will introduce more air pockets for the coating to find its way in to, and will create a more textured surface. Another way of bulking out the webbing is to introduce cotton in to the weave, this is typically 30% or more of the overall content. Cotton has a fibrous, hairy texture which provides plenty of surface for the coating to bond to. The downside to these options is that the bulkier weave takes up more volume and therefore reduces the thickness of the protective outer coating which can be applied.
Cotton also comes with a couple of other compromises too. Firstly, in order to be of use it needs to be used as the warp threads, as these threads make up the bulk of the surface area of the webbing. Unfortunately cotton yarn is significantly weaker than polyester yarn, and as it is the warp threads that provide most of the strength, this can reduce the strength of the webbing by 25%. Secondly, cut and punched surfaces of synthetic leather should, ideally, be heat sealed, in order to protect the exposed webbing fibres from coming loose and starting to unravel. Cotton, is a natural fibre that will burn with applied heat, and so severely restricts the ability to provide an adequate seal, plus it also has excellent water wicking ability. This combination means that when a cut surface comes into contact with water, the water will quickly be taken up by the cotton and moved further into the webbing core. This could develop into a nice breading ground for mold, mildew and bacteria, causing your synthetic leather products to rot away from the inside.
Only LeatherTECH Pro™ gives you a product that comes with zero compromises, including the price you pay.
We have a very strong inner webbing core
A good thick protective coating of our Bio

MER

™ polymer
All bonding together with industry leading bond strength
All at an attractively competitive price
BioMER™ is our own polymer, developed to provide a superior look and feel, have a high UV stability and, most importantly, be amongst the safest polymer coatings in use. In production we can manipulate the polymer to produce outstanding looking high gloss and deep matt finishes.
BioMER™, like many other synthetic leather coatings, contains a blend of plastic compounds and plasticisers. The plasticisers are used to provide a softer, more flexible polymer and there are hundreds of different chemicals that can be used to do this job. There have been, historically, a couple of unfortunate major problems with plasticisers, both of which increase production costs in order to overcome them. The first problem is that, in the early days of plastics technology the most common and cheapest plasticisers have now been proven to be linked to a number health conditions, including increased risks of some cancers and increased infertility in men. The second major problem is the tendency of plasticisers to slowly migrate out of the compound, this is why old plastics become both less flexible and more brittle over time. Inevitably, by the time you have developed a blend of plasticisers that give the required physical properties to the final product and which are both safe and have low migration, you will find that these come with a significant increase in cost over the unsafe options.
Many of the worst chemicals used as plasticisers are now heavily regulated around the world. The largest and most well known body of regulation in effect currently is the EU's REACH regulations. This is a very large body of regulations that deals with the manufacture, use, import and export of all chemicals within the EU. So comprehensive are these regulations that many other countries are looking to adopt the these regulations themselves and to develop them into a global set of harmonised regulations. Part of these regulations are concerned with restrictions of the use of Substances of Very High Concern (SVHCs). This is relatively small list of dangerous chemicals, known to have adverse impacts on human health, of which numerous plasticisers are included. Unfortunately REACH regulations do not completely restrict the use of SVHCs. Any finished product that contains an SVHC chemical, whose quantity makes up less than 0.1% of the finished product, by mass, can be manufactured, used, imported or exported without any restriction. What's more the 0.1% limit is per chemical, so it is possible for a product to contain multiple SVHCs each going up to the 0.1% limit and still be unrestricted.
When developing our BioMER™ polymer we have used only 100% virgin materials, ensuring that it contains zero amount of SVHC chemicals and has a very low migration level. In fact the compound we've developed with our supplier is bio-compatible, this means that it is so safe we could use it to manufacture medical grade products that could be certified as safe to implant in humans.
Only the best synthetic leather strapping will have an outer coating where the manufacturer has spent the time, effort and money to develop something that is as safe as it can be, whilst also having a premium look and feel. Although we do not claim to be the only manufacturer to do this, we are part of a very exclusive club.
When you are looking for a supplier of synthetic leather strapping you will come across some very cheap options. If you are considering these cheap options, ask yourself why are they so cheap? The only answer is that it will have an industrial grade plastic coating. When it comes to plastic compounds, they can be split into 3 broad categories
Medical grade - this is the safest grade of plastic and requires no dangerous chemicals and an extremely low level of migration.
Food grade - this is still a very safe grade of plastic, with the main difference over medical grade being that it allows for a very slightly higher migration level.
Industrial grade - due to the impact of REACH regulations these are very likely to be harmless, however it is still likely that they could contain some SVHC chemicals, up to the 0.1% limit. At the cheap end of the spectrum, it wouldn't be unusual to find multiple SVHCs, meaning that you could end up with something that has 1% or more SVHC content.
If you are still considering the cheap options, thinking that if the EU believe 0.1% is safe, then that is good enough for me, here is another, true, cautionary tale. There have been reported instances of European importers of cheap plastic goods having entire shipments refused entry into the EU. To try and reduce costs to the limit, these manufacturers are using the maximum amount of cheaper SVHCs that they can get away with. Unfortunately, due to poor quality control, they occasionally creep over the 0.1% limit. Unfortunately for the importer, when the shipment arrives in the EU, is subject to testing and then found that the product contains more than the permitted 0.1%, the entire shipment gets refused entry. Although we're not aware this has happened specifically with synthetic leather strapping, it's still very much relevant as the potential is always there.
HiBOND+™ is the technology we have pioneered, taking 5 years of continual development, evaluation and refinement, that delivers the industry-leading polymer to webbing bond strength. We have managed to achieved this without sacrificing any of the products light weight and flexibility, whilst also retaining a super easy to sew matrix.
Our woven webbing that is integral to LeatherTECH Pro™ provides supreme strength while the encapsulating BioMER™ polymer provides support and protection to the webbing core. Our HiBOND+™ technology ensures that the BioMER™ coating remains firmly attached to the webbing core throughout the life of the product. In use, synthetic leather strapping will typically be subjected to being bent, twisted, pushed, pulled and any combination of these forces. Due to the different physical properties of the webbing core and the polymer coating, when subject to these daily forces, they will both want to move in different ways and by different degrees, causing continual stress on the bonds between the webbing and the outer coating. Our HiBOND+™ technology is designed to easily cope with these continual daily forces to ensure the webbing core and BioMER™ coating remain firmly attached, giving full strength and performance, throughout the life of the product.
Video showing the bond strength testing of LeatherTECH Pro™ against selected other available products.
Ordinarily, when woven polyester webbing is cut or punched it is necessary to heat seal the cut surface, in order to bond the cut yarn ends to each other to prevent the webbing from fraying, and ultimately unravelling. With synthetic leather strapping, the outer coating will provide support to the cut ends of the webbing, helping to prevent fraying. However the webbing core will have a greater freedom to move within the coating at any cut surface, causing the strain on the bond between webbing and coating to greatly increase, leading them to eventually separate at the cut and fraying to occur. It is therefore still necessary to heat seal cut ends of ordinary synthetic leather strapping. When LeatherTECH Pro™ is cut, the bond is so strong that the loose, cut end, webbing fibres will remain resolutely attached to the BioMER™ coating, preventing any possibility of the webbing core to start unravelling.
Although we would still recommend heat sealing any cut ends and punched holes of LeatherTECH Pro+, let's be honest, not everybody takes the time to do this. If this is the case, the HiBOND+™ technology in LeatherTECH Pro+ can make all the difference.
Bond Comparison Chart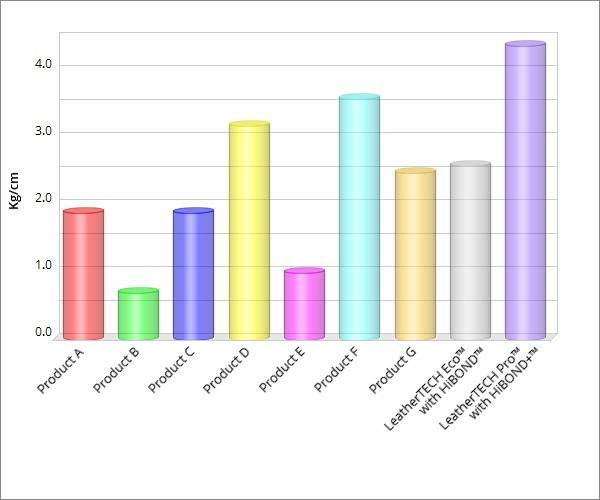 LeatherTECH Pro™
• uses our own BioMER™ coating, which
is crack, tear, cut, abrasion, moisture, freeze, chemical resistant
is strong, durable, flexible and easy to clean
is UV resistant and colourfast
is bio-compatible using only REACH compatible raw ingredients
has a premium look and feel •
• uses our own HiBOND+™ technology to give industry leading bonding between the BioMER™ coating and underlying webbing •
• is economical to purchase •
• is easy to sew •